You want to use the hidden setting with which YOU get to decide where you will be zwifting today?

You want easy access to set trainer effect (also called resistance level) before you launch Zwift?

You can use ZwiftPref on both macOS and Windows to do this and more…
What is ZwiftPref?
ZwiftPref is an app for your macOS or Windows computer which helps you change settings for Zwift in the prefs.xml file in an easy and safe way.
Important note re. the new home screen in Zwift:
Since Zwift doesn't show your last selected route in the new home screen you cannot activate a ride on your last selected route anymore. That also means that you cannot activate a ride on a route pre-selected with ZwiftPref. There is no way to circumvent this but let's hope that Zwift bring back the functionality to see your last selected route.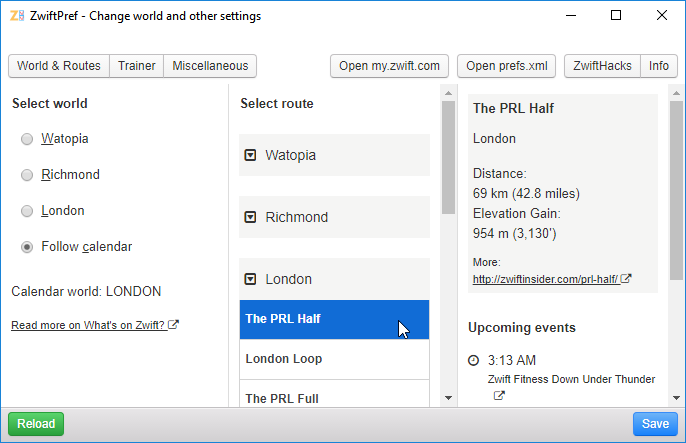 More screenshots:
How to use
After installation, launch the ZwiftPref app.
prefs.xml is loaded into the app when it starts and when you press the 'Reload' button.
Change settings as you like and press 'Save' to have the changes written back to prefs.xml. The changes will then apply the next time you start Zwift.
If you close/quit the app without pressing 'Save' nothing is changed in prefs.xml
Download
macOS
Download "ZwiftPref (macOS)"

zwiftpref.dmg – Downloaded 70695 times – 78.58 MB
md5 checksum: 828687362e568594c8b145839ee32a59
Security settings
You will have to adjust some security settings to let ZwiftPref launch. See the section 'Security settings' in the post ZwiftMap for macOS is here. It is the same for ZwiftPref.
You also have to allow ZwiftPref access your Documents folder when prompted by macOS, at least under Catalina. This is because of changes to the security model in Catalina compared to previous macOS versions.
Windows
Download "ZwiftPref (Windows)"

setup-zwiftpref-0.6.1.exe – Downloaded 35907 times – 60.21 MB
md5 checksum: b67723ade62e5c44a00034f7f61634b4
History
0.3.2 2018-03-26
Fully data driven listing of worlds and routes (preparing for a new world)
Remember and recall preferred monitor (stores the information in a separate file named saved_prefs.json)
Supports –offline parameter to not read any data from the web (routes list, event schedule, map schedule)
For development/test: Supports –test parameter to use local file routes-test.json as input (use with –offline)
0.2.5 2017-10-28
Choose sport (Riding or Running)
More routes
Open prefs.xml in a text editor
0.2.4 2017-09-11
Change more settings
Pick routes
See upcoming events
0.1.0 2017-01-26
All platforms: First release
Read more
The announcement posts provide a lot more information:
License
This license applies only to the original parts of the work. The original licenses of any included packages apply without modification.
Acknowledgements
Built on
Built with