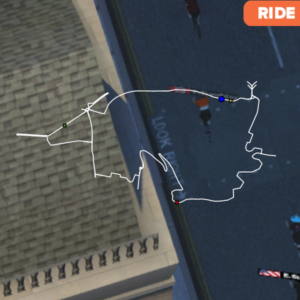 Update 2017-03-31: Version 1.1.0 is out
Update 2017-02-08: Version 1.0.0 is out
Finally, ZwiftMap for macOS is here!
(… and Windows users can try it, too)
More details and instructions will be added to the ZwiftMap page later, but I thought you should have the app while its fresh!
The download links are further down on this page. Before you download I have a few hints for you:
Use Zwift in window mode. The app will always be on top of other applications but it does not work properly when Zwift runs in fullscreen mode. You will probably have to run Zwift in window mode to be able have the map as an overlay to Zwift.
There is a magic key combo. When you start ZwiftMap it will not react to mouse clicks. This changes when you press the magic key combo Alt+Command+Z (in Windows use Alt+Windows+Z). Now you can drag the map around to where you would like it places.. When you press the key combo again, ZwiftMap will go back to letting mouse clicks through to the application below the map.
ZwiftMap is prepared for the volcano extension. The map itself is retrieved from a web service here at ZwiftHacks. The map is downloaded when you start ZwiftMap so you must be online to run the app. The benefit is that you get changes to the course map without having to download and install new app versions. NB! Absolutely no information about you is stored by this web service so your privacy is protected.
Quit ZwiftMap through the launcher / task bar. The easiest way to close the app is via a (right) click on the entry in the launcher bar / task bar. Look for the yellow Z + red arrow icon.
Prepared for streaming. There is a way to use ZwiftMap as an overlay when streaming e.g. with OBS Studio. The instructions will be added to the ZwiftMap page later.
What about the old ZwiftMap for Windows?
The old ZwiftMap for Windows is still there. I will still fix bugs in it and make sure it handles course extensions such as the upcoming Volcano extension, but in the long run the new ZwiftMap Multi will take its place.
Does it really work on macOS?
I really hope so (UPDATE: but see comment about security settings at the end of the post)! I do not have a Mac-computer so the app has been developed, tested, and packaged in a virtual client running macOS. If you find that it behaves oddly anyway, remember that…
Feedback is welcome
I would love to hear from you. Please leave questions and feedback as comments to this post.
Downloads
Download "ZwiftMap (macOS)"

zwiftmap.dmg – Downloaded 35922 times – 166.03 MB
md5 checksum: 02b3382b3a910f523f6fdbb6498a22fd
Download "ZwiftMap (Windows)"

setup-zwiftmap-2.2.2.exe – Downloaded 33705 times – 64.13 MB
md5 checksum: 1d243f602e23724222c052f3426d2779
 Security settings
Thanks to Aleš Sušnik for pointing this out in a comment on Zwift Riders:
… even if you have the settings to run the apps from anywhere (not only app store) you should go to settings, security and click open [zwiftmap], otherwise it won't start.