UPDATE: This was the original announcement of ZwiftPref. The most recent information can be found over at the main page for the app.
---
You want to make use the hidden setting with which YOU get to decide where you will be zwifting today?
You want easy access to set trainer effect (also called resistance level) before you launch Zwift?
This is now possible with an easy to use tool on both macOS and Windows!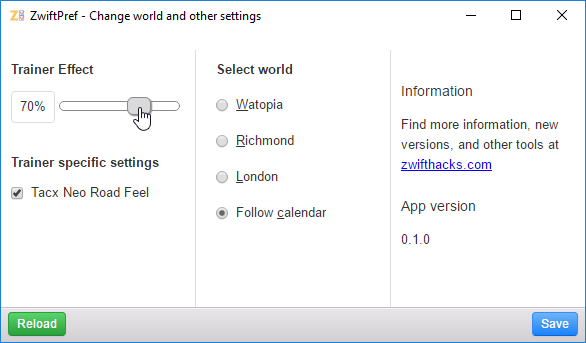 The screenshot reveals that not all features from zwift-preferences are in this new ZwiftPref app, but the plan is to add more and more in coming versions.
How to use
After installation, launch the ZwiftPref app.
prefs.xml is loaded when the app starts and when you press the 'Reload' button.
Change settings as you like and press 'Save' to have the changes written to prefs.xml.
If you close/quit the app without pressing 'Save' nothing is changed in prefs.xml
Download
macOS
Download "ZwiftPref (macOS)"

zwiftpref.dmg – Downloaded 70883 times – 78.58 MB
md5 checksum: 828687362e568594c8b145839ee32a59
Security settings
You will have to adjust some security settings. See the section 'Security settings' in the post ZwiftMap for macOS is here. It is the same for ZwiftPref.
Windows
So far I recommend zwift-preferences instead of ZwiftPref for Windows because it has more features and is much smaller in size. But anyway, here is ZwiftPref for Windows:
Download "ZwiftPref (Windows)"

setup-zwiftpref-0.6.1.exe – Downloaded 36284 times – 60.21 MB
md5 checksum: b67723ade62e5c44a00034f7f61634b4
License
[CC0 1.0 (Public Domain)]
This license applies only to the original parts of the work. The original licenses of any included packages apply without modification.
History
 0.1.0 2017-01-26
All platforms: First release
Acknowledgements
Built on
[electron](http://electron.atom.io)
[node.js](http://nodejs.org)
[photon](http://photonkit.com/)
[opn](https://www.npmjs.com/package/opn)
Built with
[electron-packager](https://www.npmjs.com/package/electron-packager)
[electron-installer-dmg](https://www.npmjs.com/package/electron-installer-dmg)
[inno-setup]