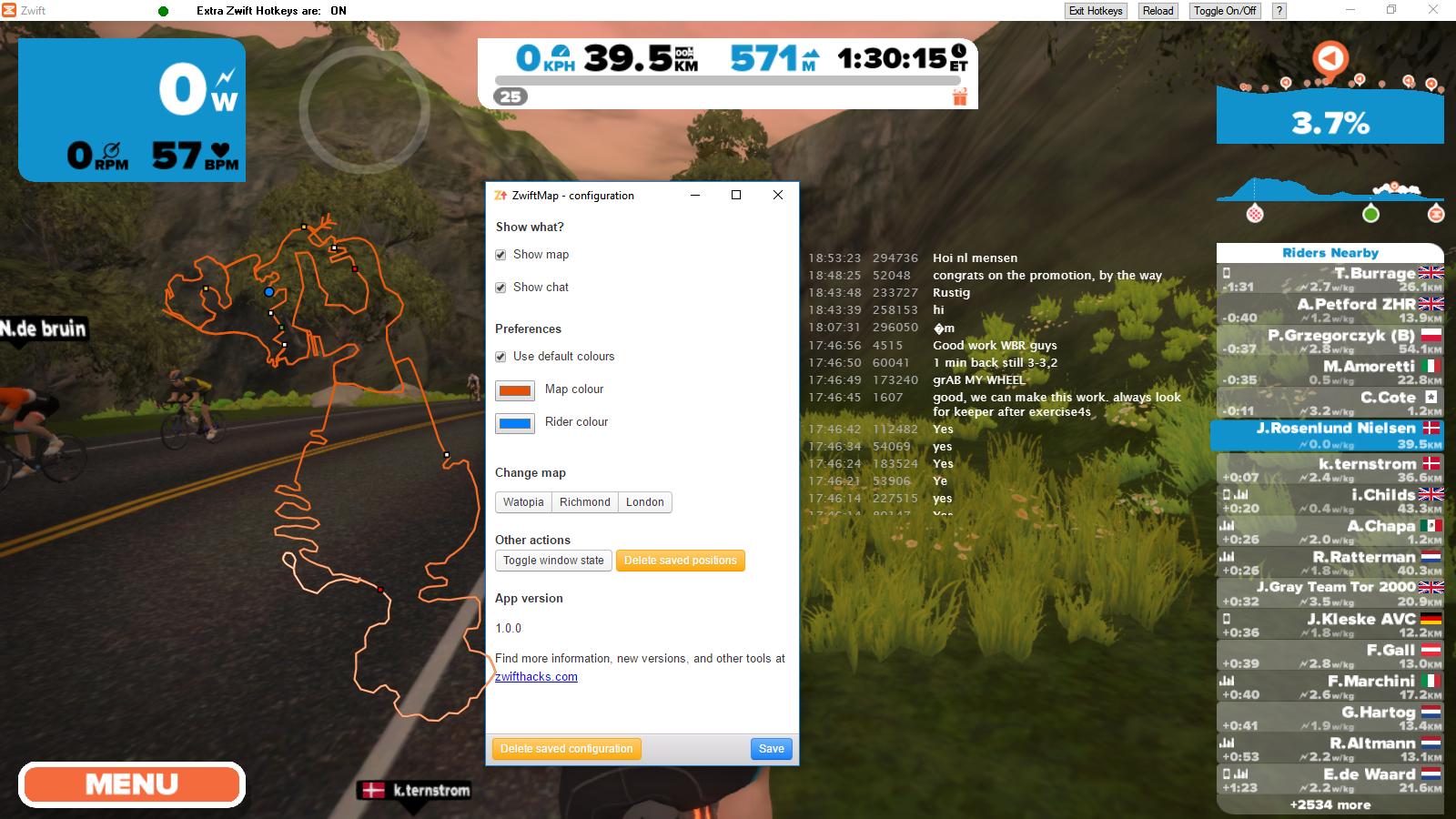 Version 1.0.0 is a major update with more features:
There is a new main window for configuration and activating/deactivating windows.
There is a new chat log window (a transparent overlay).
You can choose if you want to see the map and/or the chat log. This configuration can be changed via the configuration window, and can be saved so it is remembered the next time you run ZwiftMap.
The map and chat windows can be resized by pulling on their bottom and right borders.
Window sizes and positions are saved between sessions. The saved positions can be deleted via the configuration window if you want a fresh start.
There is a button in the configuration window to toggle window state (same effect as the magic key combo).
You can override the default colours for the map and the rider marker. The chosen colours are remembered between sessions if you save the configuration.
You can manually override which map is shown (Watopia, Richmond, or London) from the configuration. You can also just start ZwiftMap before Zwift because it then will detect from the Zwift log file which course is loaded in Zwift and switch to the correct map.
The map is now styled in a way which should make it nicer to look at. Altitude is indicated by the colour of each road segment (most clearly seen in the Watopia map — the other courses have much less altitude variations).
Accepts a command line argument (–window) to have the map shown in a normal window. This window can be captured by streaming software such as OBS Studio.
Other possibilities with this new version (probably not needed by most users):
Style the map with a user.css file. Save your styling as user.css in Documents/zwift/zwiftmap
Feedback is welcome
I would love to hear from you. Please leave questions and feedback as comments to this post.
Download, install, start, and stop…
Download and install the application.
Start the installed application.
Minimise the configuration window to only see map and/or chat log.
Exit the application by closing the configuration window (in Windows) or by selecting Quit in the menu (in macOS).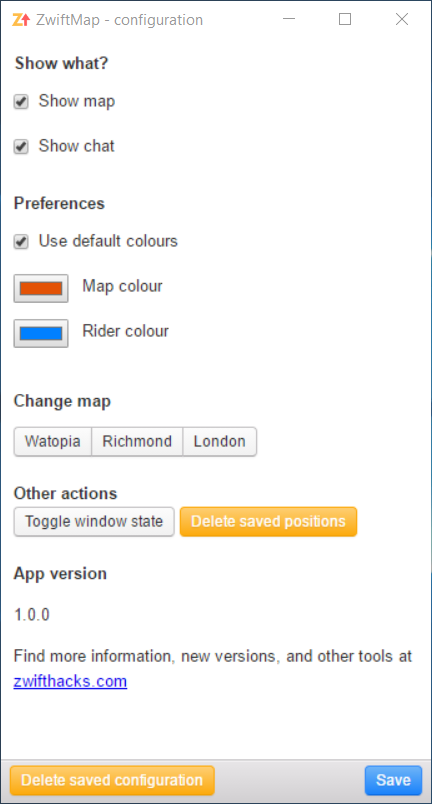 Related posts
Small changes in ZwiftMap (macOS and Windows)
What about the old ZwiftMap for Windows?
The old ZwiftMap Classic for Windows is still there but more or less all its features have now been ported to the new ZwiftMap. I currently expect to update ZwiftMap Classic with the upcoming London extension and  the Volcano climb but nothing further than that. It may even come to the point where I simply retire ZwiftMap Classic when the next extension comes out.
Downloads
Download "ZwiftMap (macOS)" zwiftmap.dmg – Downloaded 15127 times – 166 MB
md5 checksum: 02b3382b3a910f523f6fdbb6498a22fd
Download "ZwiftMap (Windows)" setup-zwiftmap-2.2.2.exe – Downloaded 14170 times – 64 MB
md5 checksum: 1d243f602e23724222c052f3426d2779