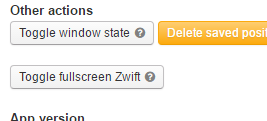 In today's release of ZwiftMap 1.1.0 there was a bug in the new 'Toggle fullscreen Zwift' feature (this is a Windows only feature). It is fixed now in version 1.1.1.
With this all features of the old ZwiftMap Classic for Windows have finally been ported to the new ZwiftMap for macOS and Windows.
There are no changes to the macOS version so there is no need to download this again if you already downloaded version 1.1.0.
Download
The update is waiting for over at the ZwiftMap (macOS and Windows) page!