ZwiftMap is still alive, and many changes have been implemented over the past months. Now you get to play with them – finally.
What is new?
The password can be saved so ZwiftMap can sign you in automatically. Be aware that the password is saved in clear text in the configuration file for ZwiftMap.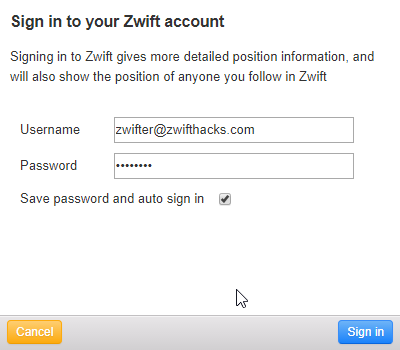 The map can be shown with a background image. It is controlled by the 'Background' preference in the configuration window.
The map can stay centered on your position. Toggle the window status (same as you would to move or resize the map window) and click 'Start follow me'.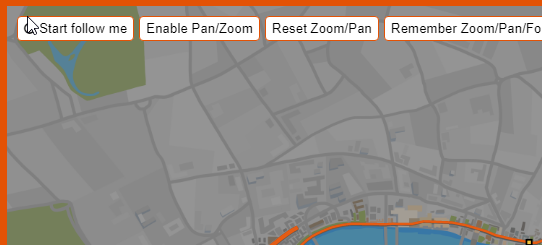 There is a whole new window which show metrics such as speed, distance etc. You can switch units between metric and imperial. You can choose which metrics to show. Just be aware that the data is only every 1-3 seconds from data received from the Zwift servers so there is a delay compared to the live metrics in the game itself.

In the metrics window you can see average speed.
In the metrics window you can see w/kg.
More changes
The configuration window will always be visible when you launch ZwiftMap. There is a check to make sure that it is shown on an active display and not positioned outside your active displays.
In the configuration window there are buttons with shortcut to make it easier to move the different ZwiftMap windows around.
Next: Move config window to next screen.
Previous: Move config window to previous screen.
Gather: Move other windows to same screen as the config window.
Default: Move windows to their default positions (relative to the config window).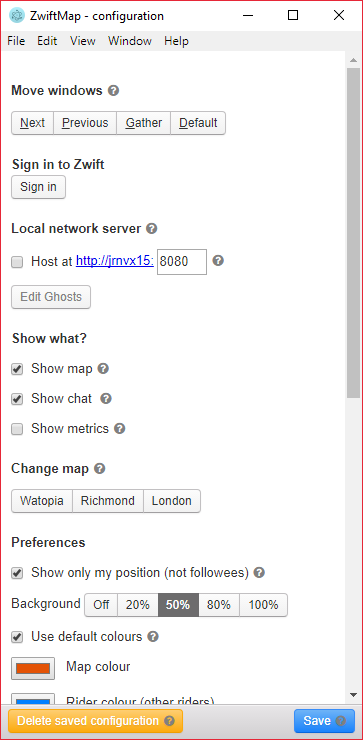 There is online help in the configuration, map, and chat log windows. Hover over or click the ?-mark icons to get further descriptions of the different features.
At the bottom of the configuration window there are options to change the logging level in ZwiftMap and to see both the saved configuration file and the logs. This is not something you typically will have to think about at all, but could come in handy if you run into problems with the app.
Credits
The background image used in ZwiftMap is Copyright Zwift (the company). Thanks to Jon Mayfield for releasing the maps to the community.
A lot of credit for this version goes to Andy Lee (zwiftgps.com) for his contributions. All of the hardcore changes in ZwiftMap which allows us to retrieve information from Zwift, show rider data etc. is his work. Thank you, Andy!
Feedback is welcome
I would love to hear from you. Please leave questions and feedback as comments to this post.
Downloads
Jump over to the ZwiftMap page for the downloads. You will also find links to all the previous announcement posts there.