While zwift-login already does handle the new Zwift launcher based on the modern Edge Webview2, this new version (v36) improves how the login dialogue is automated. Instead of sending keystrokes it now uses the UI Automation technology.
Besides that the zwift-login window itself has a few improvements:
The current username is visible.
Options and buttons are disabled/enabled according to the state which zwift-login is in.
zwift-login stays visible during the login process and displays status information in its statusbar.
You can use the 'Wait longer for Launcher window' option if you experience that zwift-login attempts to log you in faster than the launcher can handle.
Edit 2022-01-03 20:45 – v37 was just uploaded. It enforces a minimum window size to fix a problem which was reported.
Edit 2022-01-04 07:45 – v38 fixes an annoying bug: The window layout was unreadable when the Preferences button wasn't shown (i.e. zwift-preferences was not installed)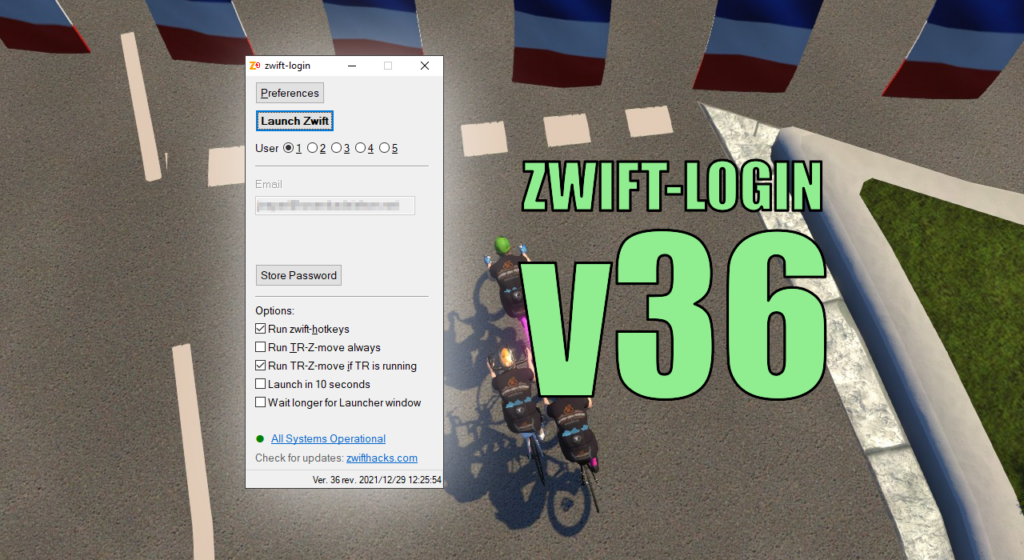 Download the update
Get the latest version at the zwift-login page.
Caveats
Version 36 has only been tested with Windows 10 and Windows 11.