Many have noticed that ZwiftMap have stopped showing ride data and chat.
That was caused by a change in Zwift earlier this year. Zwift started encrypting the network traffic between the game and the servers, which broke many community tools, e.g. ZwiftMap. If you want to read more about that, find more information in the Zwift Forums or at GitHub where it was announced.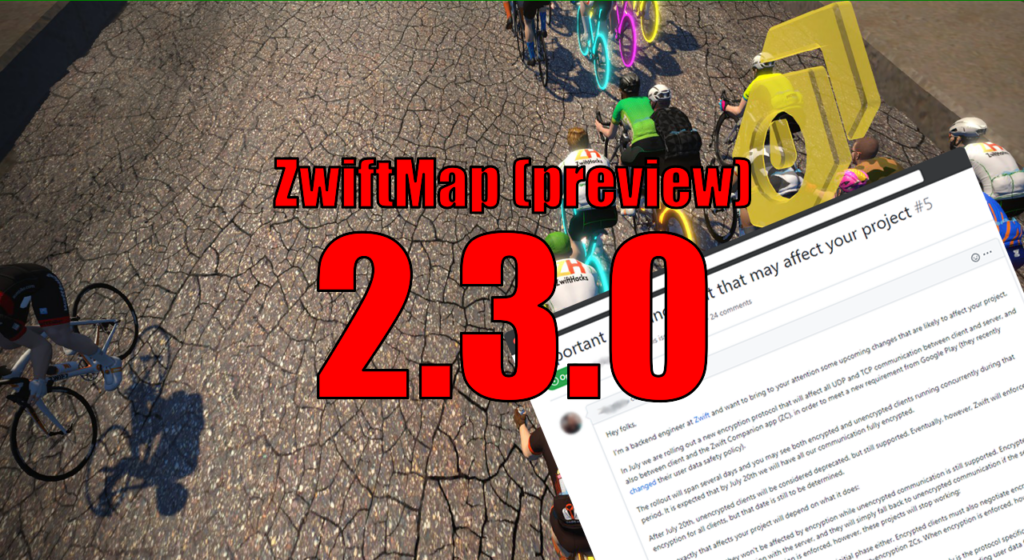 Now, there finally is a preview version (ZwiftMap version 2.3.0) with an new way of getting ride data from Zwift.
Important points:
This is only for Windows.
It reads Zwift data from memory instead of capturing network traffic. That will make it more vulnerable to changes in Zwift itself. To work around that ZwiftMap will pull some needed configuration files from a ZwiftHacks server/page. That way it should be possible to handle changes caused by new Zwift version without you having to download and update the software itself, at least in theory. Let's see how it goes in practice…
This is a preview/test version. Please report the problems you encounter.
Feedback
Leave your feedback as comments here and not via the Contact form.
Download
Download at the ZwiftMap Preview for Windows page.