TR-Z-move has been updated to version 4.
The big news is that it now supports the new TrainerRoad desktop app (both the beta and the official version). Other than that it works just like before.
In previous versions of TrainerRoad the workout instructions could still show on your primary screen and not on the same screen as the workout window itself. It seems that it is not a problem in the new desktop app so the fix for that was removed in v4 of TR-Z-move.
How to use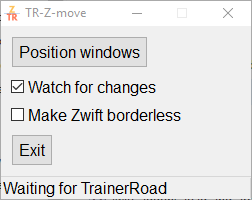 If you use the 'Watch for changes' option it doesn't matter in which sequence you launch TrainerRoad, Zwift, and TR-Z-Move.
Launch TrainerRoad, load your workout. Move the workout window to the screen where you want it (with standard Windows

Windows

The Windows operating system from Microsoft.

keyboard shortcuts Win+Shift+Right and Win+Shift+Left), and switch to minimal mode.
Launch Zwift.
Launch TR-Z-Move and make sure that 'Watch for changes' is checked.
Prerequisites
Windows PC with

Choose the compiled version below for the simplest installation. Then you do not have to have AutoHotkeyAutoHotkey AutoHotkey is a free, open-source custom scripting language for Microsoft Windows, initially aimed at providing easy keyboard shortcuts or hotkeys, fast macro-creation and software automation. installed on your PC.
Download – compiled version
TR-Z-move compiled script (529 downloads)
Version: 5
Download – script version
TR-Z-move script (334 downloads)
Version: 5
More info
License: CC NY-NC
https://creativecommons.org/licenses/by-nc/4.0/
Script:
TR-Z-move
Functionality:
Moves the instructions and dialogue windows for the TrainerRoad minimal workout window to the same screen as the minimal workout window itself.
Moves and resizes Zwift to fit above the minimal workout window.